Original members of our PAC-UK Leeds Birth Parent and First Family Group started to meet over twenty years ago, the group has continued to meet once a month, people coming together to talk and support each other with a shared pain; the pain following the loss of a child to adoption.
Most of the parents and family members in the group are grieving; left intensely sad, feeling lost and sometimes angry to be living apart from their children. Some in the group have experienced trauma themselves as children, some have learning disabilities, some were in care as children, and some have experienced domestic violence. For most in the group there is no direct contact with their children or their children's adoptive parents following the adoption order. Many of the group members do not know when, or if they will see their children again.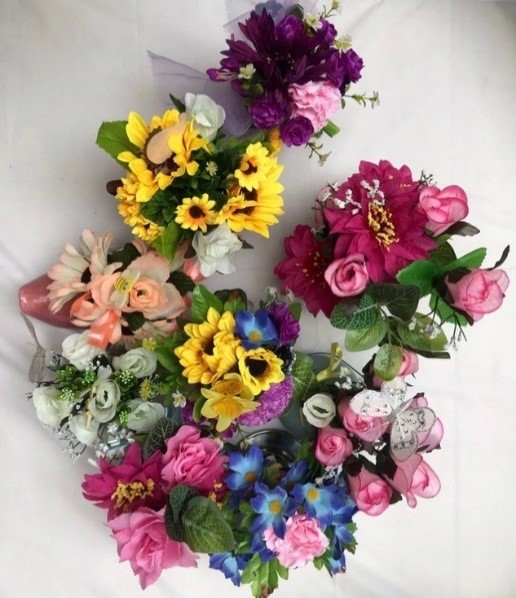 The group offers a safe space to share experiences and feelings and support one another with these. Prior to joining the group parents had usually felt unable to talk about what had happened because of the stigma and shame they often felt following the removal of their child into care. They did not know where to seek support to cope with their loss, some had not been given information about available support and some were simply not ready to reach out. Many people within our group have had significant health and social problems following the removal of their children; depression, PTSD and anxiety are common experiences. Often their relationships with family and friends are under strain and at risk of breaking down. Members tell us it can be hard to maintain relationships when you simply don't want to leave the house.
Within the group we often make things to mark special days, such as handmade cards, calendars and flower arrangements. In the last year we have been getting out and about more; we visited an equine therapy centre Equine Pathways UK in Leeds, and the New Beginnings art display in Manchester.
We have also invited visitors to the group including: Lisa Marie from Family Rights Group; Professor Andy Bilson; an adoption team manager; and the Mothers Living Apart from their Children group from Kirklees. Some group members have been invited to speak at events, to share their experiences and insights, we have met with prospective adoptive parents and with social workers – our aim is to raise awareness and encourage compassion and reflection in adoption practice and post adoption contact and support.
Last year we found out about a memorial garden in Western Australia, Read Park in Perth, where two statues are placed, dedicated to those affected by forced adoption in Australia. When we read more about the park, we began thinking about the importance of having somewhere permanent and special for parents and families to go to. The Open Nest had recently relocated to their new permanent home within ancient woodland on the north east coast and in our group we talked about visiting together. We are grateful that having heard our idea The Open Nest generously offered some space within their grounds for a garden, somewhere for parents to visit and think about and remember their children. So, we have been busy, making plans for our garden within the woodland; a place of remembrance. We want it to be private, free and peaceful, but at the same time alive with nature. The garden is situated in a small, light filled clearing in the woods near a stream, we think it is the perfect place. The North York Moors National Park is blessed with low light pollution, so stargazing is easy, the moon and the stars hold a special place for many in the group and we often talk together about how we all live our lives under the same sky.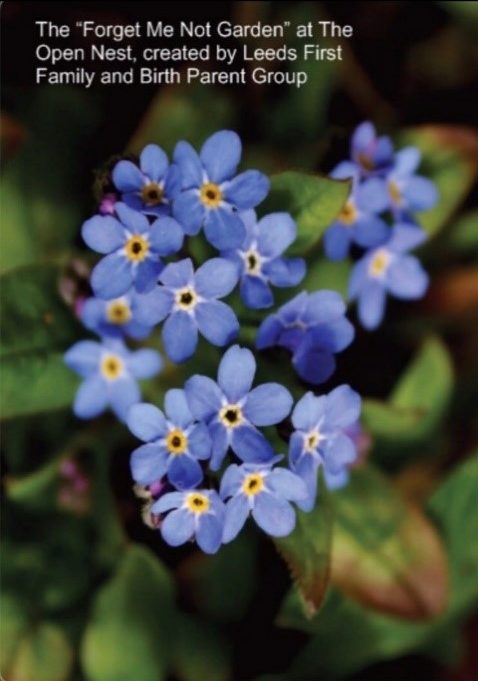 The "Forget Me Not Garden" will be the first permanent garden in England dedicated to parents and wider family members affected by adoption. We have visited twice to prepare tree decorations, special items and tokens to hang from the trees; we will add to this garden over the coming years to create a special place where art, nature and remembrance can blend, to offer a beautiful and safe memorial garden. The parents hope that in adulthood their adopted children may visit and know that they were thought of with love, despite the distance and pain of separation.
Once our main piece of art is completed in the coming months, we will hold a private gathering to mark the opening of the "Forget Me Not Garden". Parents and their close relatives will be invited to the opening. We hope that in creating this garden together we might support others facing separation through adoption and encourage conversations about the importance of humanity and compassion in working with families and within post adoption support.
For more information about our group please email denise@pac-uk.org. For more general information about the First Family Service you can call 07975 846 249 or email firstfamily@pac-uk.org.
With special thanks to The Open Nest, Amanda Boorman, Professor Andy Bilson, @ClarissaS91 and Kirsty Taylor @KirstyBratfud