Child & Family Service
PAC-UK's Child and Family Service provides specialist therapeutic support for children and families brought together by adoption or other forms of permanent placement.
Adoption Support Fund
The 'Adoption Support Fund' has been specifically set up by the government to increase the access to specialist services for adoptive families who are struggling and need help. Too many adoptive families were having difficulties in securing support in the past. The Adoption Fund is intended to remedy this by making funding available for services tailored to the needs of adoptive families. The fund can be applied to from May 2015. It will enable access to a range of assessments, therapeutic and other support services, a significant number of which are available at PAC-UK.
An application to the Adoption Support Fund needs to take place in partnership with your local authority. The diagram below summarises the process (from www.First4Adoption.org.uk).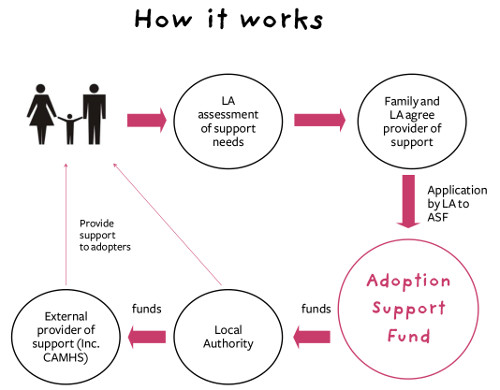 These websites provide further information on the Adoption Support Fund:
PAC-UK's specialist therapeutic Child and Family Service
PAC-UK's Child & Family Service has extensive experience in all aspects of supporting families with adopted children or otherwise permanently placed children.
We have particular expertise in providing assessments and therapeutic interventions to families whose children experienced developmental trauma such as early life abuse, neglect, multiple separations and other traumas prior to their adoption/permanent placement.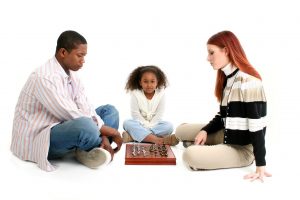 Working with black and minority ethnic children, and transracially adopted/permanently placed children is another aspect of our expertise.
The range of assessment and therapeutic services we offer is set out below.
Almost all of our therapeutic approaches actively involve the parents.
Initial family consultations and comprehensive family assessments typically involve the parent/s and all children in the family (adopted/permanently placed and birth children).
Once the weekly therapeutic sessions start, these involve the parent/s and one child at any one time for the majority of the sessions, though there will be some therapeutic family sessions involving all siblings (adopted/permanently placed and birth children) when families have more than one child.
Assessment and Therapeutic Services we offer
Initial consultation sessions
parent/s or couple consultation
family consultation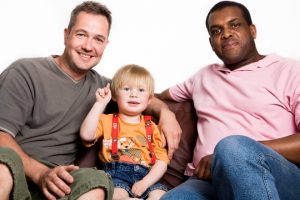 Initial parent and/or family consultation are offered to make an initial assessment of the presenting difficulties and advise about parenting strategies and other actions parents can take, including the possibility of requesting an 'adoption support assessment' from their local authority. The recommendations made in an adoption support assessment may then include further, more complex/specialist assessments and/or therapeutic interventions which PAC-UK can provide.
A significant number of parent and family consultations are available free of charge if the family lives in a local authority that PAC-UK has an annual contract with. Please contact us to find out more.
Specialist assessments we provide
comprehensive family assessment
child assessment (in the context of a family assessment)
parent-child interaction/attachment assessment
education assessment
sibling assessment
parent attachment/loss/trauma assessment with regard to therapeutic parenting
pre-adoption parent attachment/loss/trauma assessment
assessment of contact needs and arrangements with birth family members
Additional assessments by specialists associated with or recommended by PAC-UK may be advised, such as a Sensory Integration and Processing assessment, a Neuro-Developmental assessment, a Cognitive assessment, a Foetal Alcohol Syndrome Disorder assessment, a Child/Adolescent Psychiatric assessment.
Assessment methods we use
Children:
projective methods such as the Art Therapy Attachment Potential Assessment, Sandplay, Sentence Completion, Story Stem Assessment, other creative arts methods
questionnaires and standardised psycho-diagnostic measures with regard to current family functioning, effects of their past traumas, education
Parents/carers with child/ren:
Theraplay® Marshak Interaction Method (MIM)
Family interaction assessment (with play, music and creative arts)
Sibling interaction assessment (with games, music and creative arts)
Parents/carers/teachers with regard to the child:
questionnaires and standardised psycho-diagnostic measures about child's life story, traumas, attachment patterns, behaviour difficulties, self-regulation, executive functioning, strengths, identity, sibling relationships, education
Parents/carers with regard to themselves:
Attachment Style Interview
questionnaires and standardised psycho-diagnostic measures with regard to parenting, parents' own histories, attachments/traumas, self-regulation, support network
projective methods with creative arts and sand-play
Therapeutic services we offer
intensive therapeutic family work
individual therapy sessions for children and adolescents in the context of intensive therapeutic family work
intensive therapeutic parent work to enable parents to become 'therapeutic parents'
early intervention and home parenting programme (including the Enhancing Adoptive Parenting Programme)
individual sessions for parents who wish/need to process aspects of their own loss, attachment, trauma history
therapeutic life story work with adoptive family and birth family members
adoption disruption support work
Therapeutic methods we use
Theraplay® informed Practice
Dyadic Developmental Psychotherapy
Extensive life story work
Cultural and racial identity work
Creative therapies e.g. art, music, drama, play
Attachment Communication Training (ACT)
Therapeutic parenting training
Eye Movement Desensitisation and Reprocessing (EMDR)
Emotional regulation and literacy work
Somatic Experiencing®
Aspects of Behaviour modification
Aspects of Sensory integration therapy
Non-Violent Resistance (NVR): PAC-UK therapists are receiving NVR training
Professional consultation and collaboration
professional consultation for any professionals working with adoption and permanency
contribution to assessments of a child's placement needs and future support
contribution to assessments of prospective adopters and permanent carers
Bespoke services
We welcome requests for bespoke assessment, intervention and training tailored to the specific needs of local authorities, schools, and other professional agencies.
Please feel welcome to contact us for further explanations, and with any concern you may have.
Aimed for outcomes
Child's relationships with parents, other family members improve
Child's relationships with friends, teachers and other school staff improve
Child's emotional regulation and behaviour management improves
Child's engagement with learning improves
Child's sense of identity becomes clearer
Child's narrative of their early life becomes more coherent due to improved integration of past traumas and early life experiences
Child's confidence and ability to enjoy a positive family and social life improves
Adoptive parents/permanent carers' empathic understanding of their child improves
Parents and carers' capacity be effective therapeutic parents improves
Parents and carers' relationships with each other improve
Parents and carers' team work improves
Family life improves for all family members - adoption breakdown is prevented
Locations
Our face-to-face services are offered at PAC-UK's offices in London and Leeds. Certain services may be offered in the family's home if funding allows for travel time and costs.
Parent Consultations are also offered by PAC-UK's outreach counsellors in a number of monthly outreach surgeries in boroughs around the country. Please contact us for details.
Referrals, fees and funding
Referrals: can be made by parents/carers, social workers or other professionals.
Fees: please contact us for information on fees.
Funding: can be accessed from the Adoption Support Fund (via local authority), or the child's or the parents' local authority and occasionally from other funding bodies (such as health insurance). Private funding is welcome too.
The families we work with
The children may present as:
disconnected from parents and siblings
easily dys-regulated
impulsive
defiant/angry
violent
anxious
emotionally flat, 'unfeeling'
dissociated
sexualised
not learning from mistakes
struggling to make and keep friends
overfamiliar with strangers
confused about their identity
traumatised by their past
troubled by their adoption/other placements
wondering about contact with their birth relatives
Prior to joining their adoptive/permanent family, they may have experienced:
abuse and neglect
separations from previous carers, birth parent/s, other birth family members
multiple placements
difficult contact with birth family members
other traumas
Parents/carers may:
have tried many different ways to help their child
have run out of understanding and energy
feel isolated, frustrated, disheartened
feel scared
feel traumatised
worry about their child's future
feel distanced from their spouse/partner
feel that without help the adoption is at risk of breaking down
PAC-UK's Child and Family Team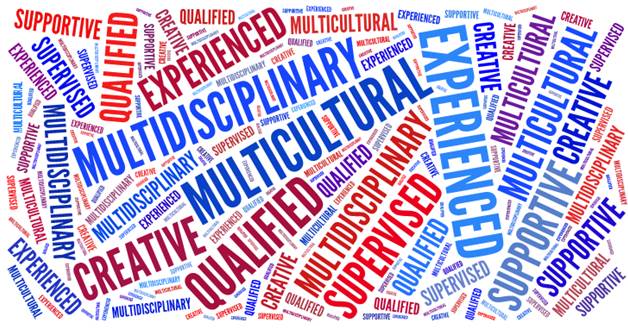 View individual staff profiles of our team.
Parent feedback
(We found most helpful) the fact that we felt supported for the first time ever since placement by qualified and experienced people. We both recognise that our child made significant progress at PAC-UK. Adoptive parent
We thought the experience was really effective.It was a safe space to work through some of the issues that impact on us as individuals and as a family group. Adoptive family
Early sessions with parents were helpful preparation. The counsellors communicated very effectively with us. Sessions carefully planned taking previous work into account and appropriate needs of our child. Friendly and supportive approach. Adoptive family
Very good. Very professional and competent. I feel we are in good hands and trust the advice given. Adoptive family
Further information
Information for Children and Young People (aged 8 years and older)
As an adopted child or young person you may have some questions about what PAC-UK is, and what it would be like if you and your parents came to see us. This page will hopefully answer some of your questions.
Information for Children and Young People (aged 8 years and younger)
As an adopted child or young person you may have some questions about what PAC-UK is, and what it would be like if you and your parents came to see us. Do ask your mum or dad to read this page. It will hopefully answer some of your questions.
Enhancing Adoptive Parenting - A Parenting Programme for New Adopters
PAC-UK has been involved in the development of this individualised parenting programme for adopters facing challenging problems in children aged 3-9 who are recently placed after having been a looked after child.
PAC-UK Child and Family Leaflet
PAC-UK Assessment + Therapeutic Approaches with Families Handout 
PAC-UK General Leaflet London 
PAC-UK General Leaflet Leeds
Intensive Therapeutic Support for Adoptive Families & Families with Permanently Placed Children & Adolescents