PAC-UK Publications
Becoming an Adoption-Friendly School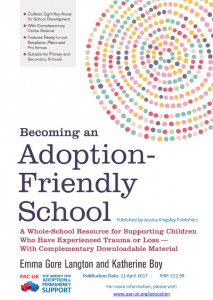 Based on research conducted by PAC-UK, this guide will show school leaders how to develop their adoption-friendly policies and practice, with photocopiable and printable resources. Identifying eight key areas for improvement such as staff training and communication with families, it is applicable to all school settings.
Purchase of the book provides access to an online toolkit, a bank of resources, templates and policies to help schools on the way. The book's launch took place on 15 May 2017 at the Royal Society of Medicine.
The book can be purchased via Amazon here. For bulk orders and all other enquiries please contact education@pac-uk.org
---
A Good Practice Guide for Schools
A Good Practice Guide for Schools clearly explains how attachment difficulties, trauma and loss affect children and young people's learning, behaviour and social and emotional development. It provides practical, evidence-informed strategies to help enhance the practice of all those working to support and include traumatised children and young people in school.
Published in 2013, our Good Practice Guide for Schools has sold over 4,000 copies.
SPECIAL OFFER - LAST CHANCE TO BUY: A Good Practice Guide for Schools - Understanding and Meeting the Needs of Children who are Looked After, Fostered, Adopted or otherwise Permanently Placed usually costs £10 for one copy and £7.50 each for multiple copies.
… But while final stocks last you can get your copy for just £5. We are also offering bulk order discounts of 25 copies for £99 or 60 copies for £199!
PAC-UK is a charity and a donation towards the cost of postage and packing would be appreciated.