PAC-UK delivered a series of free to attend online and in-person events during National Adoption Week 2023, which took place from Monday 16th to Sunday 22nd October. These events were co-produced with birth parents and adopted people who shared their lived experiences and personal views.
We were thrilled that over 550 people (including adopted people, birth parents, adoptive parents/carers and professionals) attended our live and in-person events this year and thank everyone who attended, contributed to chat discussion and provided feedback.
We'd also like to extend enormous thanks and gratitude to our guest speakers who contributed this year for all their dedication, hard work and preparation that went in to delivering the sessions this year!
Below is a quick round-up with links to event recordings (viewed over 1,000 times already!) and some other useful resources that were mentioned during presentations.
---
Monday 16 October: Historic adoption: Experiences and reflections from adoptee Jan Shine, birth mother Jill Killington and researcher Dr Michael Lambert
Jan, Jill and Michael, all involved in the demand for an apology and the subsequent Joint Committee on Human Rights enquiry talk about their experiences and impact of adoption, the enquiry and responses to it.
Read Michael's publications and outputs here.
The three speakers were all amazing; in particular Jill and Jan whose bravery in sharing their stories should be commended. This is the best presentation I've seen, there is nothing like hearing lived experience.

- Event feedback via Survey Monkey
---
Tuesday 17 October: Film launch: Messages from adopted people and birth parents
PAC-UK were commissioned to make these two short-films by the National Adoption Strategy Team via the Regional Adoption Agencies Leaders Programme, which is funded by the Department for Education.
We also made a recording of the launch event, which can be accessed on PAC-UK YouTube here.
Trigger warning: The films contain references to mental health difficulties, suicidal thoughts, domestic violence and coercive control.
I particularly found it incredibly useful to hear the adoptee and birth parents voices and experiences. To be left crying at the end of the videos (in a positive way) shows how powerful the messages and experiences shared in the videos that I hope will challenge my practice and inform and influence my practice. I am truly thankful for everyone who contributed to these videos and shared their experiences.

- Feedback via Survey Monkey
---
Wednesday 18 October: Moving forwards, not moving on: Birth parent perspectives on support
Hosted by birth mother and expert by experience, Angela Frazer-Wicks MBE and birth mother and expert by experience, Kristy, who shared how support has helped them move forward rather than moving on in relation to their children's adoption.
We also heard from birth father, researcher and practitioner, Dr Gary Clapton, in conversation with birth father, Andy Coppenhall about birth father's experiences in accessing support where there is a plan for adoption (a longer version of their interview will be available soon).
'Converstations - Birth Parent Kristy' is a separate podcast that Kristy did with Al Coates, which is available here.
The impact of the trauma felt and being held by those courageously sharing their lived experience is jaw dropping. To have navigated their way through an oppressive system that made poor, ill informed, blanket judgments about their suitability to parent and somehow find the strength and courage to move forward so that they can share their lived experiences is something anyone working in children's social care, the judiciary system, psychological services should have incorporated into their practice to ensure any this shapes and influences their practice. Hearing form birth fathers was hugely inspiring too and really helpful/powerful to have this voice represented.

- Feedback via Survey Monkey
---
Thursday 18 October: Adopteens Takeover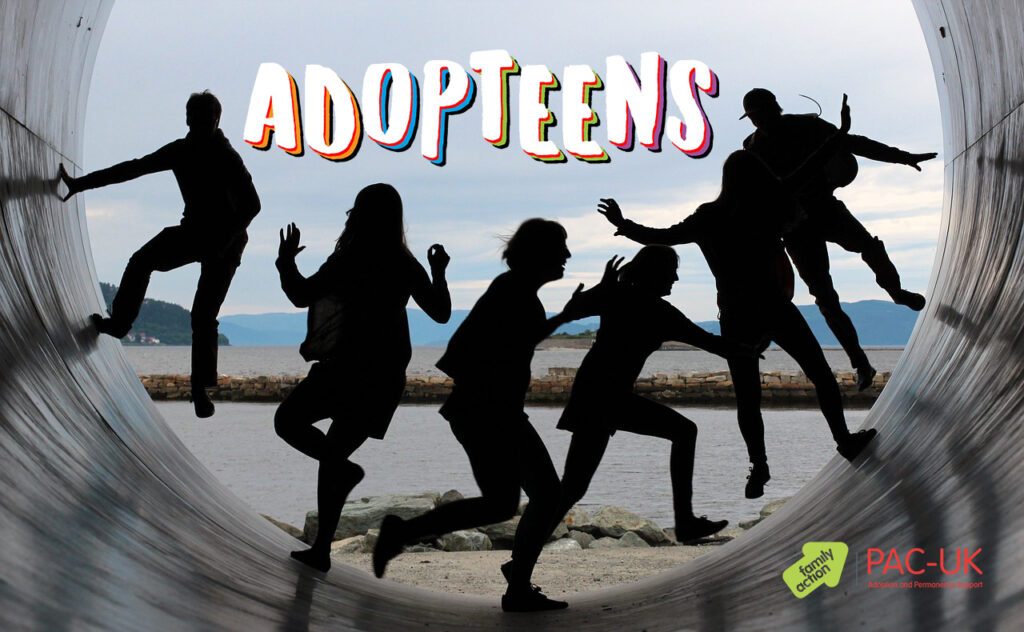 Our Adopteens Service started their takeover day on PAC-UK Twitter by launching a BRAND NEW website and shared lots of useful tips, resources, blogs, video clips and service updates throughout the day.
Please do visit the new Adopteens website at www.adopteens.org to meet the team and find out more about the service - there are lots of free downloadable resources that are co-produced with members.
Read 'Sadie's story: how Adopteens empowered me' here.
---
Friday 20 October: Adopted people in-person meet-up - London
Our second annual National Adoption Week meet-up event was held at our Family Action Head Office - the event quickly became fully booked after advertising and we realise a lot of people who would have liked to attend sadly missed out, so we will look at a bigger venue next time. Huge thanks to everyone who made it, despite significant transport strikes and adverse weather - we really hope you enjoyed the day and will be looking at feedback to plan future events.
If you have any questions about PAC-UK National Adoption Week events or resources shared, please email feedback@pac-uk.org and we will reply at the earliest opportunity.