An exhibition to be held from 3 January 2024 to 30 March 2024 at Exeter Library, Castle St, Exeter, Devon, EX4 3PQ.
By Donna Robson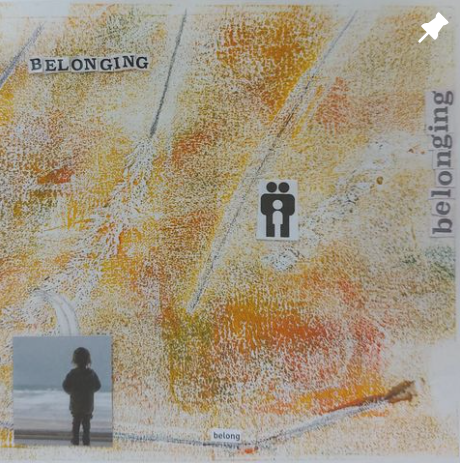 This exhibition forms part of my professional practice for my final year of a BA (Hons) Fine Art degree at Arts University Plymouth, Devon, UK.
I was adopted at 5 days old and had a wonderful adoptive family and childhood. However, I struggled as a teenager to come to terms with the 'missing piece of my jigsaw'. Now as a very mature student still trying to find where I belong, I wanted to explore in more detail my recently discovered biological ancestry and integrate this knowledge and my feelings of belonging or indeed not belonging into my art.
I recognise that many of us from whatever walk of life can struggle to feel we belong. Whether in our family, tribe, community, place of study/work, social circle etc. I would like you to use this theme to show your sense/feelings of belonging (or not belonging).
I found these comments from Tate's podcast The Art of Belonging useful and you may wish to use these as your starting point.
Belongingness - to feel accepted
To belong is to feel a sense of recognition
To belong - to feel an affinity with something
Belonging - a sense of being at home, of being part of a place
To belong - to feel connected and content in the moment
All work will be displayed both at the library and online via Instagram and will be sold for £20 each - requests to buy work can be made via social media www.instagram.com/belonging_2024 and email dr10698469@aup.ac.uk.
Donations will be made to the following charities:
Exeter Library: Libraries Unlimited is an independent staff and community owned social enterprise and charity, established in April 2016 with the support of Devon County Council.
PAC-UK: PAC-UK offers specialist support to all parties affected by adoption and permanency
Details for submissions:
Theme - Belonging (or indeed not belonging)
Free to enter/submit
Open to all artists
Size - 12cm x 17cm on strong paper, mounted paper, card, however the work must be able to stand on its side/edge for display
Any medium accepted
Only 2 pieces of work per artist
Do not write on the front of your work; on the reverse please add

Title of your work (if applicable)

Website/social media details etc
Open for entries: 1st September 2023 | Closing date: 1st December 2023
Please email dr10698469@aup.ac.uk if you would like to send your work and I will provide the necessary postage information.