Education Resources
PAC-UK's Education Service have developed a range of resources to support families, schools and local authorities in meeting the educational needs of adopted and special guardianship children.
Becoming an Adoption-Friendly School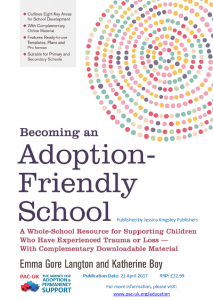 Based on research conducted by PAC-UK, this guide will show school leaders how to develop their adoption-friendly policies and practice, with photocopiable and printable resources. Identifying eight key areas for improvement such as staff training and communication with families, it is applicable to all school settings.
Purchase of the book provides access to an online toolkit, a bank of resources, templates and policies to help schools on the way. The book's launch took place on 15 May 2017 at the Royal Society of Medicine.
The book can be purchased via Amazon here. For bulk orders please contact lisao@pac-uk.org
Becoming an Adoption-Friendly School will also be available to schools as a six day course, spread across the school year, from September 2017. The course will run in London and Leeds.
Enquires about the book, toolkit and course can be directed to education@pac-uk.org
Our Adoption Friendly Schools Charter which accompanies the book can be downloaded here and can be freely used by schools to communicate their efforts and journey towards becoming adoption friendly.
A Good Practice Guide for Schools
Published in 2013, our Good Practice Guide for Schools has sold over 4,000 copies.
A Good Practice Guide for Schools - Understanding and Meeting the Needs of Children who are Looked After, Fostered, Adopted or otherwise Permanently Placed costs £10 for one copy and £7.50 each for multiple copies. PAC-UK is a charity and a donation towards the cost of postage and packing would be appreciated.
The flyer for the guide is here. For bulk orders and further enquiries please contact shannon@pac-uk.org
Pupil Premium Plus Guide
This is a handy guide for schools and families on effective use of the Pupil Premium Plus.
All about Schools
Our booklet for adoptive parents and special guardians explains educational processes and school systems, for those who may not have recent experience of the education system.
Key Questions for Schools
Adoptive parents and special guardians often tell us that they would like help in identifying the most suitable school to meet their children's needs. In consultations with families, we have identified some key questions to ask schools when you visit them.
Me & My World
Included in the appendix of the Good Practice Guide for Schools, this document provides a framework for adoptive families, children and young people to share important information about the child's strengths, needs, triggers and support preferences.
Goodbyes & Transitions
We are often asked about activities and resources to help children say goodbye at key transition points. We have put together some suggestions, which you can view here.
Booklist
We have compiled a list of suggested reading about adopted children's educational needs for schools, families, education and social care professionals. You can download this here.
Adoption UK Education Resources
This page includes a range of resources and training designed to make education a successful environment for children who have suffered early trauma, neglect or abuse.