PAC is proud to be sponsoring the Social Worker of the Year Award in the inaugural Kinship Care Awards. The awards celebrate the achievements of kinship carers and those who work in the field and form part of a major kinship care conference being hosted by Grandparents Plus on Thursday 6 June.
The day will bring together leading experts on kinship care - including PAC trustee Hedi Argent - to examine forthcoming changes in the law and what they mean for those placing children within the wider family and supporting kinship carers.
Kinship Care:
the first choice for children
Thursday 6th June 2013
Hotel Ibis London Earls Court, 47 Lillie Road, London, SW6 1UD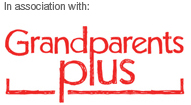 Rising numbers of care applications continue to place ever growing pressure on children's services. When a child cannot live with their parents the Children Act (1989) requires that the first step should be to consider placing within their wider family where this is consistent with their welfare. Yet despite statutory guidance on family and friends care, practice varies across local authorities. Social workers often find it difficult to make a judgement about kinship placements. When children are placed family and friends carers find it hard to get the support the children need.
This conference will bring together leading national and international experts on kinship care to address some of these fundamental challenges.
Click here to see the full agenda.
The inaugural Kinship Care Awards
Linked to the conference, Grandparents Plus and Neil Stewart Associates will be holding the first ever Kinship Care Awards – celebrating good practice and recognising those who have done the most to promote and support kinship care.
Click here to learn more about the awards.
For further information contact:
Dino Dionissiou on 020 7324 4430 or email dino.dionissiou@neilstewartassociates.co.uk