On 31 January 2017, the Adopted Teens Identity Project (AT-iD) screened its independent film 'Voices' to an auditorium of over 140 guests at the Hyde Park Picture House in Leeds.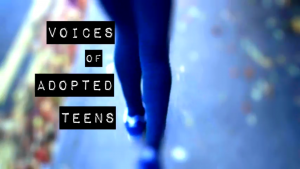 The featurette was produced to raise awareness about the challenges and misconceptions around adoption for older children. It highlights the impact of adoption for teenagers and young adults and its effect on building relationships with families, friends and peers.
The teenagers who took part in the film gave this opening to the film:
"I'm a teenager. I also happen to be adopted. When people know this, they think differently about me; sometimes they treat me differently. They come up with ideas about what my life is like without really knowing me at all. So we made this film to let people hear for the first time what we have to say about our own feelings - about the things that are important to us. About what makes us feel angry. We've made this to give you the best source of information about teen adoption that you could have - our own voices."
The afternoon event featured a talk from Mark Owers (Professional Adviser to the Adoption Leadership Board), followed by a Q&A session with the teenagers and group leaders from the film.
Tanya Killick, AT-iD Project Lead from PAC-UK said:
"The feedback we have had following the showcase has been quite astounding, especially regarding the bravery of the teens getting up on stage and answering questions from the audience after the film was screened.
We are all extremely proud of those involved and thank everyone for their support on the day."
Some feedback from members of the audience includes:
"As a social worker who assesses parents to become adopters, the most fundamental thing I will take away from this film is 'you're not just adopting a baby, you're adopting a teenager"
"Fantastic to hear the teenagers express their feelings so openly in front of so many people, very moving"
"I thought the young people today were a true inspiration and extremely empowering"
Peter Sandiford, CEO of PAC-UK said:
"Adopted children represent a minority in society and across the education system, which can leave them feeling misunderstood and isolated among their peers and the adults they interact with. The messages in this short film clearly illustrate the complexities of adoption and should be compulsory viewing for all professionals adopted young people might come into contact with. I am proud of the hard work and personal commitment that went into the film – both in front of and behind the camera – and delighted that PAC-UK could play a part in the project."
---
AT-iD, a project set up by the Yorkshire & Humber Adoption Consortium and delivered by PAC-UK, was created to provide adopted teens aged between 11 and 18 with a community that offers information and an insight into the experiences of adopted teenagers. The project aims to give a voice to adopted teenagers by providing them with a safe and secure way to discuss problems and issues with their peers or project workers.