More than 2,000 families being helped through life-changing government fund worth over £7 million in the past 6 months.
From: Department for Education and Edward Timpson MP
First published: Part of: Looked-after children and adoption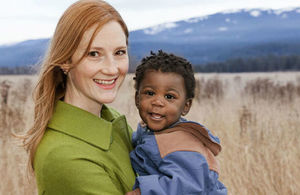 Thousands of adoptive families are now accessing essential therapy services to help their children close the door on previous traumatic experiences and settle into their new life - backed by £7 million of government investment.
Since the introduction of the fund in April 2015 - the most significant reform to adoption support in a generation - applications have been made by every single council the length and breadth of the country.
And to make sure families get the support they need, when they need it, the government has today (20 October 2015) unveiled a new coalition of adoption champions, who will advise - and challenge - ministers on how help and support for families can be improved.
The group will bring together experienced adoptive parents who are determined to make a difference in shaping adoption services both locally and nationally, putting their knowledge and experience to good use for those families on the start of their adoptive journey.
Children and Families Minister Edward Timpson, who has 2 adopted siblings, said:
"It's absolutely fantastic news that over 2,000 adoptive parents across the country are now getting the help and support they need to set their brand new family on the road to a bright future.

"I know from my own personal experience that some children adopted from care have been through terrible ordeals which don't simply disappear once they have settled with their new families.

"It's vital that adoptive families get the help they need to transform the lives of their children.

"And it's adopters who are best placed to tell us how this vital support can be improved. I want to hear from them and put their real-life experiences to the best possible use in improving services for other adoptive families."
The government has also revealed details of the first 14 regional adoption agencies, groups of councils and voluntary adoption agencies coming together with one single purpose - to place children waiting for adoption without delay with their forever family.
At the moment, adoption is happening at too small and localised a scale. One study showed that in around 1 in 3 cases, children were left waiting longer than necessary due to councils' reluctance to look outside their immediate area for the right family - a further delay to a life full of love and stability.
Encouraging local authorities and voluntary adoption agencies to join forces will act as a triple win, giving agencies a greater pool of approved adopters to improve matching, making vital support services more widely available to adoptive families, and better targeting the recruitment of adopters.
The government will provide financial and practical support for councils and adoption agencies to enable them to bring services together regionally, and implement the greatest step change in the way children are matched for adoption in a generation.
Today's announcement is evidence of the government's commitment to reform the adoption system so children waiting are provided with stable and loving homes much more swiftly, giving them the opportunity to settle and bond with their new family.
The government has:
provided £30 million to speed up the finding of adoptive parents in England by covering the costs incurred by councils who find parents beyond their geographical boundaries
introduced regional adoption agencies to place children waiting for stable loving homes, quickly
removed barriers by ensuring ethnicity is not prioritised over other factors, such as the ability to provide a stable, loving home
introduced new rules requiring councils to actively consider fostering for adoption places where appropriate, allowing children to move in with their adoptive family much earlier
placed mandatory requirement on all councils to tell prospective adopters about their entitlements
extended pupil premium funding and priority school admissions so that all children adopted from care are eligible for extra funding at school
empowered adoptive parents to choose the school that will best meet their child's needs
Notes to editor
The government's Adoption Support Fund- worth over £19 million - has now helped over 2,000 families across the country, with investment to date totalling £7 million. Read more about the Adoption Support Fund
The new adopter champions are:

Scott Casson-Rennie, adopter, Senior Development Manager, Adoption UK
Al Coates, adopter, member of the Adoption Support Expert Advisory Group
Jenny Jones, adopter, member of the Adoption Support Expert Advisory Group
Sally Donovan, adopter, member of the Adoption Support Expert Advisory Group
Anita Hart, adopter, Adoption UK Regional Manager, Midlands
Avril Head, adopter, Adoption UK Adopter Champion
Michael Denmead, adopter, Adoption UK Adopter Champion
Caroline Rigby, adopter, Adoption UK Adopter Champion
Sara Stocks, adopter, Adoption UK Adopter Champion
Helen King, adopter, Adoption UK, North West Regional Manager

Below is a list of the successful regional adoption agency projects we have announced today. Each of these projects will receive financial support and practical support from our delivery partner - the Consortium of Deloitte and Mutual Ventures. This is the first group of projects that join Coram Capital (funded by the Voluntary Adoption Agency Expansion Grant programme) in the move to regionalising adoption. We anticipate that more projects could be announced to join these in the coming weeks, as discussions are currently ongoing.
| Lead bidder | Local authorities | Voluntary adoption agencies |
| --- | --- | --- |
| Yorkshire and Humber | All 15 local authorities in the Yorkshire and Humber region | After Adoption, Adoption Matters, PAC UK, Yorkshire Adoption Agency |
| Bolton | Blackburn with Darwen, Bolton, Bury, Oldham, Rochdale, Tameside | Adoption Matters, Caritas Care |
| Coram | Cambridgeshire county council, Northamptonshire county council, Norfolk county council, Bedford borough council, Central Bedfordshire, Buckinghamshire county council | Coram Cambridgeshire Adoption (CCA), St Francis Children's Society and Adoption Plus |
| Wolverhampton | Walsall, Dudley, Sandwell, Wolverhampton, Shropshire, Telford and Wrekin | Adoption Focus |
| PACT | Medway, Milton Keynes, Brighton and Hove | PACT |
| Stockport | Stockport metropolitan borough council, Trafford metropolitan borough council, Manchester City, Salford City, Cheshire East borough council | Adoption Matters and Caritas Care |
| Adopt Berkshire | Bracknell Forest, Reading, Royal Borough of Windsor and Maidenhead, West Berkshire, Wokingham, Milton Keynes, Oxfordshire, Medway | Adoption Plus, Coram, Barnardo's, St Francis Children's Society, PACT |
| Lincolnshire | Lincolnshire, Lincoln City, Nottingham City, Nottinghamshire, Peterborough, Derbyshire, Derby City, Leicester City and Leicestershire | Adopt Together, Coram East Midlands, Family Care |
| Liverpool | Liverpool, Sefton, Wirral and Knowsley | Nugent Care and After Adoption |
| Essex | Essex, Southend, Hertfordshire, Luton and Suffolk | Adoption Plus |
| Families for Children | Bournemouth Borough, Dorset, Borough of Poole, Somerset | Families for Children |
| London Adoption Board | All 33 London boroughs | Action for Children, Adoption Plus, Barnardo's, Coram, Family Futures, IAC, PACT, PAC UK, SSAFE, TACT |
| Wigan | Wigan, Warrington, St Helens, Cheshire West, Halton | Adoption Matters, Caritas Care |
| Plymouth | Plymouth, Torbay and Devon | Families for Children and Barnardo's |
DfE enquiries
Central newsdesk 020 7783 8300
General enquiries 0370 000 2288