Education Service
Children and young people who have experienced early life trauma can experience a range of challenges in school. PAC-UK's Education Service offers a range of services to enable schools, parents and guardians and education and social care professionals to meet the needs of permanently placed children.
---
Meeting the needs of adopted and permanently placed children - A guide for school staff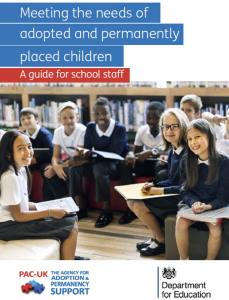 PAC-UK and Adoption UK have published two complementary education guides, for school staff and adoptive parents respectively, to help ensure adopted children get the best possible educational start in life.
The guides explain why these vulnerable children may need additional support in school, what educational entitlements they can attract and what support is available for them.
PAC-UK's guide for school staff 'Meeting the needs of adopted and permanently placed children: A guide for school staff' covers a range of topics including: what we know about our children in education, a background to early developmental trauma, whole school approaches, and support for schools and families.
Adoption UK's guide 'Meeting the needs of adopted and permanently placed children - A guide for adoptive parents'  includes information about Virtual School Heads (VSHs), Designated Teachers (DTs), Priority School Admission, Pupil Premium Plus (PP+) and dedicates two pages to Intercountry Adoption and Schools.
PAC-UK: Meeting the needs of adopted and permanently placed children - A guide for school staff
PAC-UK Cards - 4 up
PAC-UK Case Studies
PAC-UK Flyer - Supporting adopted and permanently placed children in school
PAC-UK Poster - We want you to know
Adoption UK: Meeting the needs of adopted and permanently placed children - A guide for adoptive parents
These guides and resources were published on 19 October 2017. You can read the joint PAC-UK & AUK press release in full here.
---
Working Together to Support Adoptive Families in Schools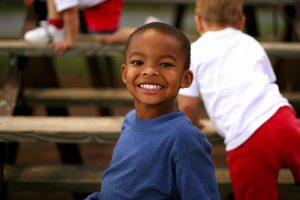 The Department for Education is increasingly recognising the long term impact of trauma and loss for children who live in adoptive or special guardianship families.  As part of their investment in supporting adoptive families, the DfE has awarded a grant to PAC-UK and Adoption UK to develop and implement strategies to improve the adoptive family's school experience and therefore increase their academic and personal success.
In an attempt to combat this, the DfE has awarded PAC-UK and Adoption UK a grant to develop strategies and implement actions to have received from the Department of Education. The funding is specifically for London and the Tees Valley and we would love to work with you on this.
Free Training for Schools
As part of this project, we can deliver FREE training to schools within London and Tees Valley, until March 2018.
This DfE funded project training aims to:
Develop staffs understanding of the effects of early trauma, loss and attachment difficulties
Provide evidence-informed practical strategies to support and include children
View our DfE Project Training Flyer for more information.
Who will the project aim to help?
Adopters
Initial Teachers & Early Years / CPD
Virtual Schools
Local Authorities
To find out more about the project and how it can help you, view the DfE Project Flyer or contact Noelle Adames (working days Mon - Weds) on 0207 284 0555 or noelle@pac-uk.org
---
Education Advice Line
Our Education Advice Line is open each Wednesday and Thursday during school term times between 10am and 12pm. Staffed by our Education Advisers, this is an opportunity for adoptive parents, special guardians, school staff and social workers to talk through any school or educational concerns regarding adopted or special guardianship children, and receive advice and support. The telephone number is 0207 284 5879. You can view our advice line flyer here. You can also access support and advice by emailing education@pac-uk.org
---
Training & Consultations for Schools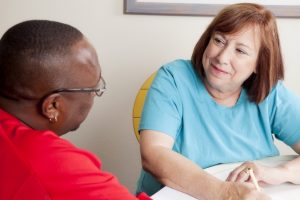 Our training helps staff to understand trauma, loss and attachment, and provides practical evidence-informed strategies to support children. Following our partnership with Adoption-UK, PAC-UK's education training now encompasses elements of  Adoption UK's 'Life in The Classroom' to offer a combined training product suitable for a wide range of education professionals, including teaching staff, ITT providers, teaching assistants, SENCo's and other professionals working with children in education.
Schools can buy in sessions lasting between 1.5 hours and 3 hours. Schools that have received training can buy in consultations which focus on specific children. These child-focused consultations support the team around the child to understand the child's strengths and difficulties in light of their early life experiences, and to agree to a support plan based on evidence-informed interventions. We also offer systemic consultations to schools, to develop whole-school good practice and policies. For further enquiries about our services for schools please contact Corrina Jacob by emailing corrina@pac-uk.org
---
Commissioned training days
We offer a range of training days which are commissioned by adoption services and virtual schools for adoptive parents, special guardians, school staff and education and social care professionals. Current training days include:
The adopted child in school: Understanding and meeting children's educational needs
All change: Supporting adopted and permanently placed children with transitions
Spending it wisely: Effective use of the Pupil Premium Plus
Becoming adoption friendly schools: Support on the journey
Developing children's executive functioning skills
To commission a training day or enquire about a bespoke training day, please complete the Commissioned Training Booking Form and email to corrina@pac-uk.org
---
Educational Psychology Service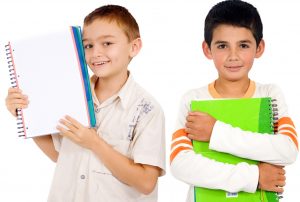 We have an Educational Psychology Service specialising in supporting children who have experienced trauma and loss. The service can be commissioned by schools and local authorities to provide assessments, consultations, training and research. The service cannot currently be commissioned directly by parents or guardians, except in exceptional circumstances. We also work jointly with our Child & Family Services in London and Leeds to provide educational assessments and consultations as part of our packages of therapeutic support for families.
Our Educational Psychology Contract outlines the kind of work we undertake. Our Educational Psychology Referral Form and consent form will also need to be completed and returned to Helen. For enquiries about our Educational Psychology Service, please contact helen@pac-uk.org
Intensive casework
If you are a school or local authority that would like to commission intensive casework, please contact helen@pac-uk.org. If you are a parent or guardian, please use our education advice line (Wednesdays and Thursdays from 10am - 12pm term time only), or email education@pac-uk.org
Our EP service is temporarily unavailable, but you can check here for up to date information on when it resumes.
---
Therapeutic Support in Schools
From September 2016 our Education & Wellbeing Workers will be able to offer therapeutic support in schools. These include:
Transition groups for pupils
Mindfulness groups for pupils and staff
Friendship groups and interventions
Theraplay groups for children, parents and carers
Reflective practice groups for staff
Clinical supervision for individual staff including headteachers
Individual and systemic therapeutic work for young people where appropriate
Please contact helen@pac-uk.org to discuss these services.
---
Support for specific Local Authorities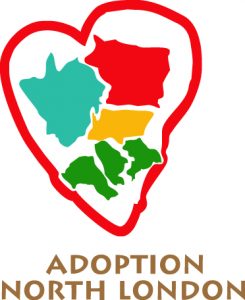 Adoption North London Consortium: We are contracted to offer educational support and advice for adoptive and special guardianship families whose adoption support is provided by Barnet, Camden, Enfield, Hackney, Haringey and Islington. Parents and guardians can attend education-focused support groups across North London boroughs. They can also book hour-long face to face consultations with a member of the Education Service. Alternatively we can arrange telephone consultations. To book a consultation, please telephone the advice line on 0207 284 5879 or email us at education@pac-uk.org
---
Adoption-Friendly Schools Book and Toolkit
Between November 2015 and February 2016, more than 400 adoptive parents, special guardians, school staff, education and social care professionals took part in our online consultation about what it means to be an adoption friendly school. The result of this research is our Adoption Friendly Schools Charter:
As an adoption friendly school, we work hard to...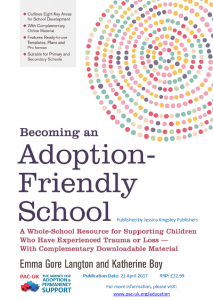 Identify children's needs
Prioritize relationships
Respond empathically to behaviour
Work in true partnership with parents
Share information sensitively and effectively
Reflect and protect adoptive families
Support our staff
Use our resources wisely
We don't always get it right, so we try again.
The Charter can be downloaded here and can be freely used by schools to communicate their efforts and journey towards becoming adoption friendly. The charter is accompanied by our book, published by Jessica Kingsley Publishers in April 2017, which can be purchased via Amazon here. For bulk orders please contact lisao@pac-uk.org
Purchase of the book provides access to the online toolkit, a bank of resources, templates and policies to help schools on the way. The book's launch took place on 15 May 2017 at the Royal Society of Medicine.
Becoming an adoption-friendly school will also be available to schools as a six day course, spread across the school year, from September 2017. The course will run in London and Leeds.
Enquires about the book, toolkit and course can be directed to education@pac-uk.org
---
Yorkshire & Humber Education Project
The Yorkshire and Humber Education Project was a Department for Education funded collaboration between PAC-UK and the Yorkshire & Humber Adoption Consortium. Taking place between April 2015 and July 2016, the project aimed to support families and develop capacities of schools and local authorities to better meet the educational needs of adopted and other permanently placed children.
In May 2016 a celebration event was held to acknowledge the project's achievements and share the good practice which had been developed. With over 25 speakers, it provided an opportunity to hear about the positive impact of the changes that schools have made during the course of the year.
Read the full press release, including a pre-recorded video message of support from The Minister for Children and Families, Edward Timpson, on the PAC-UK website here.
---
Education Resources
We have developed a range of resources to support families, schools and local authorities in meeting the educational needs of adopted and special guardianship children.
View our NEW Education Resources page here.