PAC-UK & AUK Education Project - Working Together to Support Adoptive Families & Schools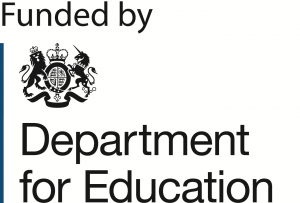 Adopted and permanently placed children may experience a range of difficulties at school, including problems coping with change and transitions, relationship difficulties with adults and other children, and difficulties managing their emotions and behaviours. All of this can have an impact on their learning and emotional wellbeing.
This project is funded by the DfE Practice & Improvement Fund until 31 March 2018.
---
What is the Education Project?
The Department for Education is increasingly recognising the long term impact of trauma and loss for children who live in adoptive or special guardianship families. As part of their investment in supporting adoptive families, the DfE has awarded a grant to PAC-UK and Adoption UK to develop and implement strategies with school staff, virtual schools, local authorities and adoptive families to improve the adoptive family's school experience and therefore increase their child's academic and personal success.
We believe that teachers and schools have a vital role to play in supporting [adopted] children; socially, emotionally, and academically, to raise their attainment and address their wider needs.Department for Education, 2014
---
How can you benefit from the project?
Adopters
We hope that families will feel an increased level of confidence in the knowledge that their child's early years practitioners and teachers have been trained in the skills, knowledge and understanding needed to meet the educational, emotional, social and behavioural needs of their children.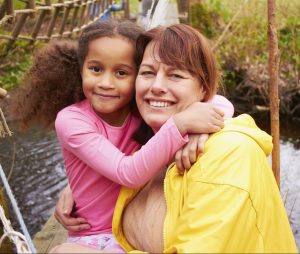 Through training schools and other education providers, PAC-UK aims to highlight the importance of joined up meetings for adopted and permanently placed children. Experience tells us that when all professionals work together it can be more effective in supporting children's social and educational needs; helping to reduce stress, frustration and duplication. This can in turn lead to an increased sense of belonging for your child in school.
Initial Teachers & Early Years / CPD
The project allows PAC-UK to provide free training to Initial Teacher Training providers, Early Years Practitioners and qualified teachers regarding the impact that early childhood trauma, attachment and loss can have on learning. The training offers the opportunity for teachers to develop their skills and knowledge to support and improve educational engagement with these children.
The trainings aim to inform and support teachers and school staff in: understanding the experience of the traumatised child; applying strategies in the classroom; talking more comfortably about adoption, and identifying self-care options.
Virtual Schools
The 2017 Children & Social Work Act significantly enhances support for previously looked after children i.e. children who have left care via adoption, special guardianship or child arrangements orders. The Act places a new duty on local authorities and schools to promote their educational achievement.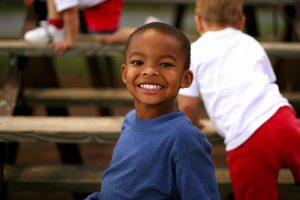 This project allows us to assist Virtual Schools in feeling equipped to support adoptive families, schools and social workers through: organising community forums where Virtual School staff, educators and adoptive parents together develop ways to work and increase understanding; providing training on the impact of early childhood trauma and attachment issues, and connecting with Virtual Schools to identify their needs in order to sign post to appropriate service providers and agencies.
Local Authorities
Through participation in this project Local Authorities will gain the opportunity to increase their impact in supporting adoptive families and schools. Community building sessions with school staff and adoptive parents will help to strengthen the ties between the three groups moving towards solutions of identified common obstacles. PAC-UK's attachment trauma and loss training can be offered to LAs during the project (through agreement with PAC-UK) and to schools in order to support them in working towards becoming adoption friendly.
---
FREE schools, early years and initial teacher training on attachment and trauma
This training is FREE to all schools, Early Years and ITT providers within London and Tees Valley as part of this project, and will be running until March 2018.
We would recommend booking a 1.5, 2 or 3 hour session, to enable the staff to really develop an understanding of this subject, however we do appreciate that this sometimes isn't possible and a 1 hour session can be delivered if necessary - with the understanding that anything less than 1.5 hours is considered a 'taster' session.
As long as the space allows it, we can conduct the training for up to 100 participants, however 25 is an ideal number.
Content of the training
Understanding the experience of the abused and neglected child is an intervention in itself.Calmer Classrooms: A guide to working with traumatised children – Child Safety Commissioner
PAC-UK believes that without understanding the origin of attachment, strategies can be harder to implement effectively which is why we have produced a training that covers these key areas:
How early trauma and loss can impact the developing brain
How this might look in the classroom
Strategies for the classroom
Self-care (helping to prevent burnout)
Click here to download the training flyer for more information.
The next step would be to complete this booking form  and email it to Lisa O'Callaghan at lisao@pac-uk.org. Please ensure that you provide the following details:
A selection of dates and times
Length of training
Who will be attending the training (teachers, SENCOs, etc.)
How many people
Is there access to a computer and projector for PowerPoint
In which borough is the school located
For further enquiries about Education Project training services please contact Lisa O'Callaghan by emailing lisao@pac-uk.org.
Informative session, very insightful. Easy to relate to and see how strategies can be implemented in the classroom.Teacher
The trainer's passion for her job is evident and her style of presenting has enthused me even more to fully consider my own approached. Fantastic!Student Teacher
---
Beacon School - 'Becoming an Adoption-Friendly School' course
This NEW, six session course is provided by PAC-UK, the country's largest independent adoption support agency. PAC-UK's Education Service has expertise in understanding and supporting the educational needs of adopted and permanently placed children who have experienced trauma in their early lives.
The course includes: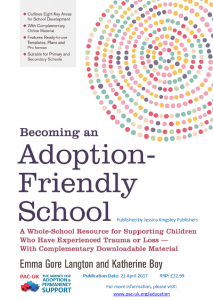 Six high quality training days between September 2017 and March 2018
A copy of the book 'Becoming an Adoption-Friendly School', with access to the online toolkit
Between-session access to telephone support from the trainers
Access to an online network of delegates, for ongoing peer support and discussion
A rich set of resources to use within school.
There is a limited number of funded places available to schools in the London and Tees Valley regions, through a Department for Education grant to PAC-UK.
Click here to download the course flyer for more information.
For further enquiries about this Education Project course please contact Lisa O'Callaghan by emailing lisao@pac-uk.org.
Very reflective and eye-opening on how to help and support cared-for children, but also every child.Teacher
---
Community meetings
As a part of this project, PAC-UK are working with virtual schools, adoptive parents, school staff and local authorities in order for these groups to come together in small community meetings. The community meetings will provide an opportunity for all those striving to support permanently placed children to work together towards improving the outcomes of looked after and adopted children. This collaborative forum will combine skills and experience to make long-lasting sustainable changes to the way adopted children are supported within the borough.
Click here to download the community meetings flyer for more information.
For further enquiries about Education Project community meetings please contact Lisa O'Callaghan by emailing lisao@pac-uk.org.
---
Education Project staff profiles
Practice & Improvement Grant Manager. Noelle has worked with families and individuals in a healing capacity for over 20 years. With a wide-ranging background as a Drama & Movement Therapist, Marriage & Family Therapist, Artist Educator, Project Manager and Professional Actress, Noelle combines a systemic approach to working with people with the creativity of storytelling, drama and movement. She has shared her expertise with such organisations as The State of California Foster Care Agency and George Mason University as well as various schools. She enjoys teaching ways to work from a strengths based approach and combines experiences from her many different lives with theory, in order to expand people's techniques of working with those in need.
Head of Education Service. Helen is an experienced teacher. Having completed a BA in drama and a post graduate teaching qualification she taught in secondary schools for seven years. Helen has worked across the field of education with pupils in secondary and primary as part of transition schemes and nurture groups, working with children with a wide range of abilities and needs. Since joining PAC-UK in 2015 Helen has worked passionately as part of the education team to raise awareness of adoption based difficulties in education, and worked with schools and families to provide support and evidence based strategies to meet the needs of young people of permanence struggling in education.
Adoption & Special Guardianship Education Consultant. Clare has over 12 years' experience of teaching and supporting children in a variety of educational settings including; pupil referral units, autistic schools and mental health units. During this time, she has developed whole school staff training programs (focussing on working with challenging pupils) and has also implemented pastoral support programs for pupils in need. Currently, Clare runs a range of whole school CPD courses that assist schools in dealing with challenging behaviour. Clare works with PAC-UK's Education Service to aid schools in their support of children that face trauma, loss and attachment challenges.
Adoption & Special Guardianship Education Consultant. With a BA in Drama in Education and Society, Brenna is passionate about teaching using a creative approach. She is experienced in offering professional support and advice to families, school staff/other professionals to aid their understanding of those in need, as well as facilitating bespoke support services for schools following critical incidents. Brenna also has an MA in Drama and Movement Therapy and is an HCPC registered therapist with experience working closely with schools developing plans and conducting therapy within mainstream and special education. Particular areas of specialism include working with people on the autistic spectrum and working with bereavement.
Adoption & Special Guardianship Education Consultant. Laura is an experienced primary school teacher based in the North East of England. During her time teaching, she supported a wide range of children in improving their attainment and progress and implemented a whole school approach to the 2014 National Curriculum changes. In 2016, Laura achieved an Med in Education with a focus on the needs of adopted families and the roles schools play in supporting them. Within school, she supported children with their transition to secondary school and was the student teacher mentor.