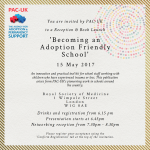 You are invited by PAC-UK to a reception and book launch for 'Becoming an Adoption Friendly School' taking place on 15 May 2017 at the Royal Society of Medicine.
Becoming an Adoption Friendly School is an innovative and practical tool kit for school staff working with children who have experienced trauma or loss. This publication arises from PAC-UK's pioneering work in schools around the country.
Drinks and registration from 6.15pm, presentation starts at 6.45pm followed by a networking reception from 7.30pm to 8.30pm.
You will receive an automatic confirmation email once you have completed the registration form. You will need to bring this with you (or show on your mobile phone) to gain entry on the night.
For more information, contact Lisa O'Callaghan lisao@pac-uk.org
Availability: Spaces remaining.