About PAC-UK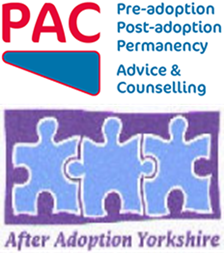 PAC-UK was formed on 1 October 2014 as a result of an amicable merger between PAC and After Adoption Yorkshire (AAY), to become the largest independent adoption support agency in the country. Our vision is that all people affected by adoption and other forms of permanence are supported and enabled to live their lives to the full.
PAC-UK exists to improve the lives of families and individuals affected by adoption and other forms of permanence by providing access to a range of individually tailored services and appropriate support depending on need.  In addition we aim to increase the awareness and knowledge of professionals and the general public.
To achieve our objectives, we offer the following key services from our offices in London and Leeds:
We have partnerships with 37 local authorities stretching from Northumberland and Sefton in the north to Haringey and West Sussex in the south; and in total more than 100 local authorities benefit from our expertise every year.
PAC-UK brings together a multi-disciplinary team of more than 100 staff and volunteers with an extensive range of skills and expertise in working therapeutically with children, adoptive families, other permanent carers, adopted adults and birth parents.
The combining of the Post Adoption Centre (PAC) and After Adoption Yorkshire (AAY) into PAC-UK is a welcome development in enhancing the provision of a range of quality and evidence based services for adoptive families. Both organisations have a well-established track record in forging responsive, child and adult centred perspectives which have contributed significantly to the lives of thousands of people. I look forward to this developing into the future as a result of this merger.John Simmonds - Director of Policy, Research and Development, British Association for Adoption and Fostering (BAAF)
The Theraplay Institute celebrates the formation of PAC-UK. Now adoptive families and the professionals who serve them will have even more and better resources, support and training opportunities to create strong, healthy and happy families.Theraplay Institute
For the history of PAC click here.
For the history of AAY click here.
PAC-UK is also a member of CASA, a group of independent Adoption Support Agencies (ASAs) who are registered under the Adoption and Children Act 2002. They provide support services to all parties affected by adoption or long-term fostering throughout the UK.
Download PAC-UK's Equal Opportunities and Diversity Policy and Procedures.
Download PAC-UK's Safeguarding and Promoting Welfare Policy and Procedures.
Download PAC-UK's Statement of Purpose.